Viana (Navarre), July 2021 Grupo La Navarra, the leader in liqueur manufacture, completes its Bianca Villa range with two extraordinary liqueur creams: Chocolate and Whisky. Tanzanian cocoa's uniqueness and exoticism, as well as the warmth of Irish whiskey, captivate with their flavour and quality, combined with a modern, elegant image and GLN's know-how and experience.
Grupo La Navarra (GLN) eis in its year of expansion and diversification, and in its constant pursuit of excellence, adds two new chocolate and whiskey creams to its portfolio of premium distillates, developed to attract a taste-loving public looking for sophisticated after-dinner cocktails. GLN aims to provide its customers with a gourmet delight to accompany their little everyday indulges. These creams can be enjoyed on their own, with ice, in a cocktail, with ice cream or coffee, or with desserts or cakes. For GLN, these two creams provide multiple options for incredible enjoyment on any occasion.
The Bianca Villa chocolate cream was created after an extensive selection of Tanzania's best cocoa varieties, which are destined for the highest quality chocolates.
The result is a cream with a strong intense flavour, in which the dark chocolate blends harmoniously with the sweet and milky notes that are experienced when tasting it. It stands out for its intense cocoa flavour and dark brown colour, with hints of pure liquid chocolate.
Bianca Villa Whiskey Cream is a cream prepared with authentic Irish whiskey, for that we count on the collaboration of Dutch masters. It's a thick and velvety cream with caramel and vanilla aromas. The balance of the alcoholic flavour of the whiskey, melting with the vanilla, milk cream, and cocoa, distinguishes this cream.
"These two new creams are born of collaborative efforts with Dutch masters cream makers where we wanted to broaden our range with products of an international character and high quality, in addition to wanting to give them a distinctive touch that we achieved with the authentic Irish whiskey and cocoa from Tanzania," says Alicia Usubiaga, Quality control Director of GLN.
RP – 12€ – Graduation 15º Chocolate Cream and 17º Whisky Cream.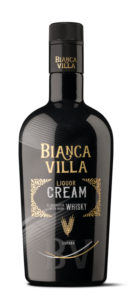 Notes: Grupo La Navarra has its origins in 1580 when Don Diego de Belasco was born and years later founded a small distillery in Lerín. Destilerías Viana, now known as Destilerías La Navarra, was established in 1831. In that year, the first artisanal pacharán known in Navarre's industrial history was born. In 1976, Juan Ignacio Belasco Baquedano, as winemaker, continued the history of making this pacharán while also demonstrating the Belasco Family's entrepreneurial spirit by producing various new distillates.